An unbelievable no bake chocolate cake

I suspect this will be the easiest chocolate cake you'll ever make. And it is always a great success. It's the kind of simple dessert that's perfect for summer (and fun!) Because you don't have to heat your oven. I think it's a no-bake chocolate cake, you wouldn't be far from calling it a truffle truffle. Or imagine a velvety chocolate mousse mixed with espresso that you could cut into beautiful wedges. Sounds incredible, doesn't it? If you have ten minutes, some dark chocolate, cream, and something to pour the cream on, you're in business. I also have some non-milk varieties.
When this type of chocolate cake is perfect
I'll throw that up when we have friends over for dinner and I'm running out of steam on the dessert front. It's less difficult to do than to go out and buy something. A little bit really goes the distance. It's intense, it's hardcore chocolate. Coupled with a hint of whipped cream (or whipped coconut cream), it is an absolute crowd-puller. I infused the cream used in the cake with espresso and allspice in this version, but you could play it straight away. Or take it in any direction – you can find dozens of great suggestions in the comments.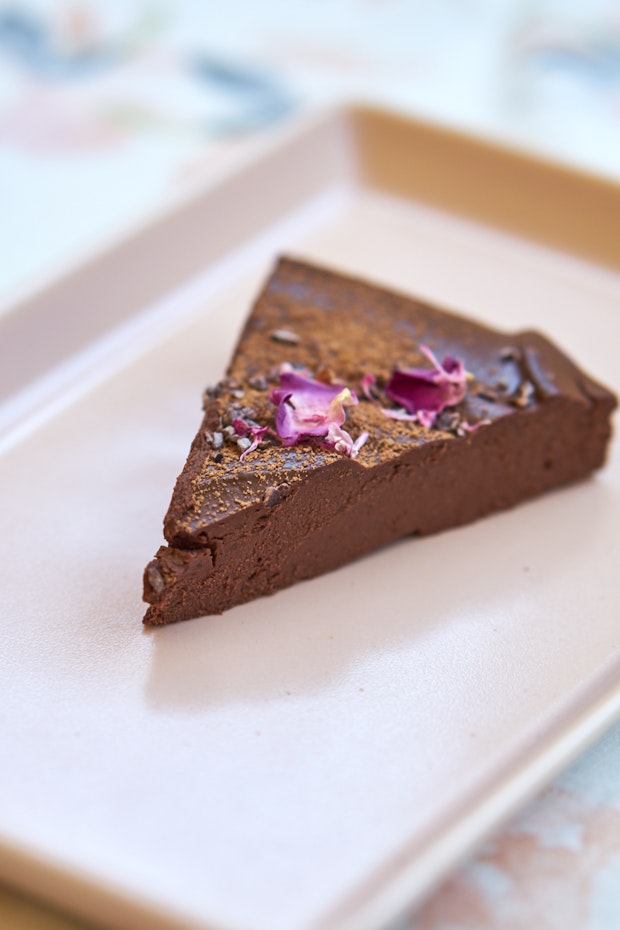 Choosing the right pan
This is a small but powerful chocolate cake. The choice of the pan deserves a mention. They end with ~ two cups of doughand for the most part you can pour that into any small parchment-lined cake tin that you like. The parchment is important if you ever want to get the cake out of the pan. For this cake I used a small loaf pan that I like, but I did this in small spring pans and occasionally in small cake pans. Remember, a larger pan means a thinner slice. A small loaf pan like this makes a deeper slice and so on. It's hard to screw up – I mean, it's a sliced ​​truffle cake. In the main photo I used a 6 inch springform pan. In the picture below I used a small loaf pan.
In case of emergancy – Some of you mentioned that you simply pour the chocolate mixture into individual muffin tins or dessert cups, let it harden and serve it this way. Brilliant! Less cake like, but I suspect nobody will complain.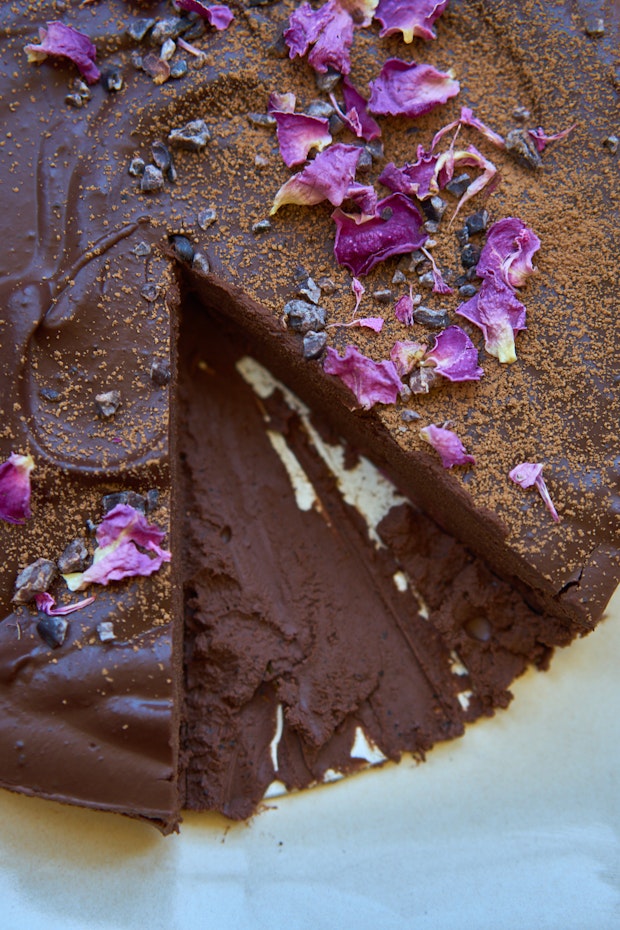 Variations
If you want to avoid cream, there are a number of substitutions that work well. I love using cashew cream instead of the cream required in the recipe. Make cashew cream by combining 1 part cashew nuts + 1 part water and using a high-speed mixer to make it silky smooth. need to strain. Coconut milk also works well as a substitute.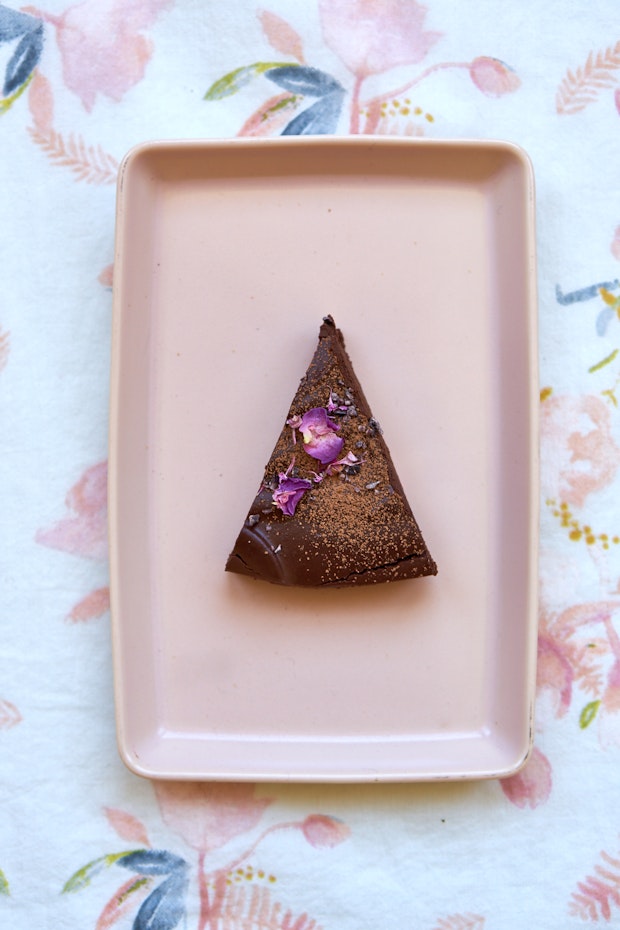 Choose the right chocolate
Since this cake is all about chocolate, you don't want to save on quality. I used Guittard Organic 74% Bittersweet Chocolate Wafers for this cake. It works wonderfully. I often use it directly, i.e. without the espresso or allspice specified in the recipe. So it's only the beautiful chocolate notes that get through. Represent San Francisco's family-run chocolate! But any good chocolate between 70% and 80% works.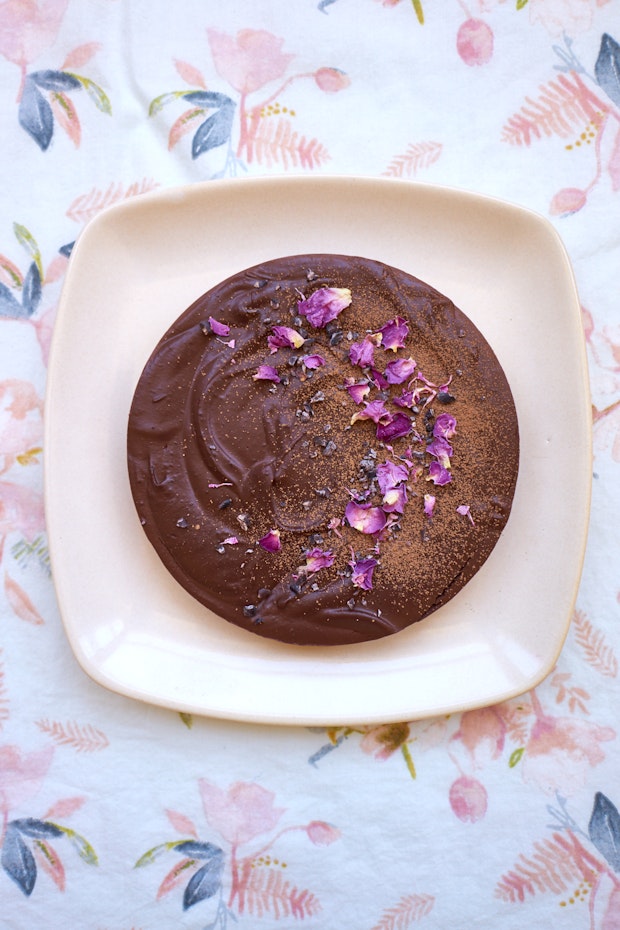 Finishing touches
I like bringing a little more flavor (and something pretty) with a hint of cocoa powder, a couple of dried rose petals, and a pinch of cocoa nibs. Others like to end it with a few berries. Generally, if it goes well with chocolate, do it. A couple of toasted nuts or crumbled cookies would not be undesirable.