I update this soup from the archives (2010) because it's the kind of hearty, timeless, soothing soup that helps in times like these. I did it this afternoon and it makes me feel a little bit better. There is hacking that concerns the hands and focuses the mind. The basic ingredients are flexible and straight from the pantry – grains, canned tomatoes, beans. And if you have a lot of products to use, a soup like this is perfect – eat something, freeze something.

I want to keep my original post here because it reminds me of how I cooked it for them ten years ago. // (February 23, 2010) I spent the night with my mother and father last week. I'm sure I've mentioned this before, but they live in Los Gatos an hour south of San Francisco. It's nice to cook in your kitchen at this time of year because the view from the sink is very nice. The hills that surround her house have an electric shade of green, and the old oaks with rugged skin are covered with moss and lichen. They say coyotes have been out lately, but when I was growing up, it was mostly deer, skunks, and raccoons (and occasionally rattlesnakes). I made them a big pot with farro and bean stew – simple, hearty and uncomplicated. They both went back for seconds, and I took that as a good sign.

The recipe below was quite a departure from the recipe I photocopied, folded, and put in my travel bag – regardless of that, I wanted to mention the book that inspired it – La Cucina: The regional cuisine of Italy. I read it through at night. It is the culmination of the work of the Accademia Italiana della Cucina. It is an organization of thousands of members who visit villages, towns and farms across Italy to document cooking techniques and ingredients – to preserve their country's culinary heritage. The resulting volume is over 930 pages. The Farro soup has five or six recipes.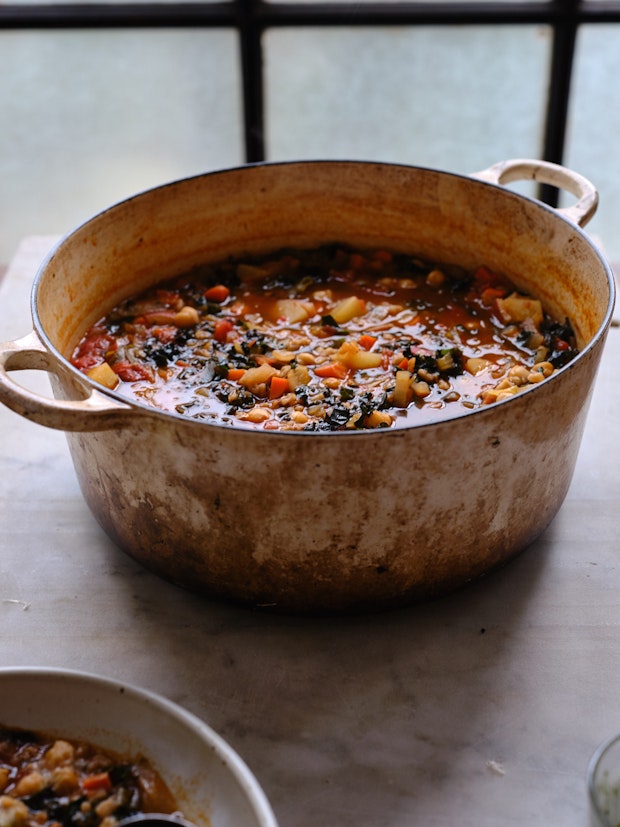 Over the years I have made changes and variations to this soup and topped it off with a number of things. Here are a few favorites.
Harissa & Feta: We ate the soup with harissa / olive oil and a good amount of feta. Highly recommended for those of you who sit on Harissa. Whirl a relationship 1/3 Harissa paste to 2/3 olive oil. Drizzle over the soup.
Coriander garlic: Shown here with a coriander and garlic olive oil. Puree the leaves and stems of a bunch of coriander with 2-3 cloves of garlic, a pinch of salt and olive oil.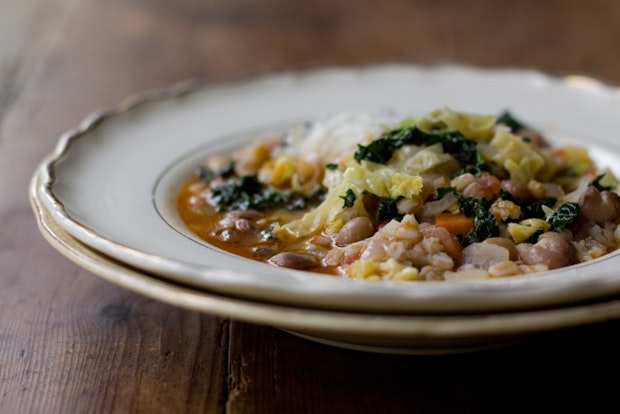 A version with heirloom beans, savoy and kale.

Your bean strategy
You have a lot of leeway here. I made versions of this soup with dried beans and canned beans. I have used I use Sangre de Toro beans, Rosa de Castilla , Cannellini beans and (as you can see here) canned chickpeas. I use Sangre de Toro beans the first time around. The second time I used Rosa de Castilla. Both were good (the schnapps from the Sangre de Toro was intense in a good way), but the Rosa de Castilla were great – they kept their shape and then melted in your mouth. Red beans are traditionally used. Canned chickpeas also work wonderfully. They are all delicious, use what you like or what you have on hand. And remember If you use dried beans, great! Save the bean broth and use it in combination with the water specified in the recipe for a wonderful, full-bodied broth.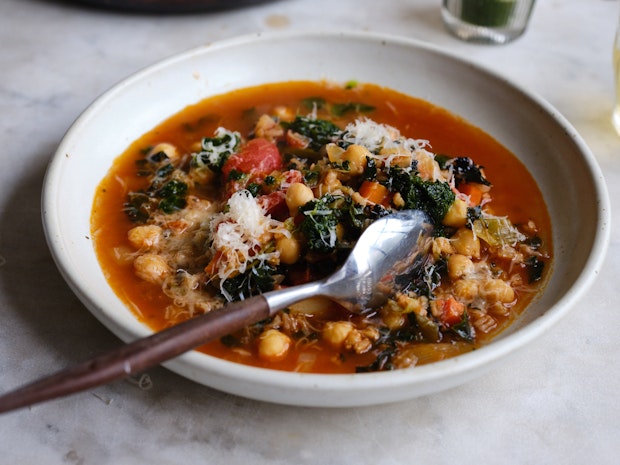 A creamy soup without cream
One last variant that you can explore if you want. If you crush a cup of your cooked beans before adding them to the soup, you will get a "creamier" broth. I skipped this step in the recipe below and opted for a clearer broth (as you can see above) but kept the idea in your back pocket.